Beyond the Black Celebration
The stage lights flashed, laser-sharp beams of red and rotating spirals of gleaming gold. The opening staccato of synthesizer notes announcing "Black Celebration" poured from the speakers as we picked our way through the crowd to our seats.
Let's have a black celebration
Black Celebration
Tonight
To celebrate the fact
That we've seen the back
Of another black day
I'd driven five hours in a monsoon, hands gripping the steering wheel, to attend the concert with a BFF from high school. Depeche Mode was one of our favorite bands in the '80s, and it only seemed fitting to relive it together.
Depeche Mode, The Delta Machine Tour, Dallas, TX, 9-20-13
If you're familiar with Depeche, you know the sound. If you're not, they're a British alt-rock electronic band, in line with the popularity of synthesizers in the '80s, but with a darker slant and gloomy lyrics.
Perfect for angsty 15-year olds yearning to hook our claws into something with enough meat to bite back.
I, in particular, connected with the band's earlier songs like
People are People
,
Master and Servant
,
Shake the Disease
, and
Blasphemous Rumours
:
I don't want to start any blasphemous rumours
But I think that God's got a sick sense of humor
And when I die I expect to find Him laughing.
Uplifting, no? A bit of an escape from the confines of the plaid, Catholic school-girl uniform that imprisoned us on weekdays.
Riding the edge of the New Wave movement, we would slather on black eyeliner, don our biggest attitudes, and endeavor to get our hands on contraband clove cigarettes to complete the look.
Smiling was frowned upon.
And as an awkward teenager desperate to fit in, but not quite cool enough for the *popular* crowd, this fit the bill.
We travelled in packs, frequenting the Galleria on a Friday night, or possibly lowering ourselves to attend our brother school's football game and dance afterward. Holding up the walls with crossed arms as jocks and cheerleaders swayed to "Stairway to Heaven" before loading up in their Mustangs to head to someone's house party.
But that was so long ago, and as with most teenage phases, that's all it was.
It was the beginning of a period in my personal history that stands out, though. A time marked with desperation, fear and longing, and lots of self-loathing of who I saw staring back at me in the mirror.
But as I stood there with my friend, almost thirty years later, both mothers with two kids each, we had the wisdom and self-confidence that only comes with age and experience. We enjoyed every minute of the concert, reliving that time and only seeing the good in it.
The self-loathing thing is powerful, though, and it lurks beneath the surface, even after years of beating it down with good-living, positive self-talk, and Faith.
Life is imperfectly good, and I wish the 15-year old Me could have known this with more certainty. The music, the attitude, the look, they were nothing but a smokescreen for the insecurity inside.
My night at the Depeche Mode concert convinced me of one thing:
I will always love the songs, but I'm changing the story.
No more Black Celebrations for me.
See, it IS possible to smile while wearing black eyeliner.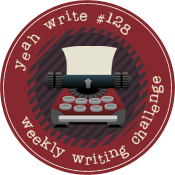 I've been missin' Yeah Write! Come visit us to read, write, and vote with the best blogs on the internet. Black eyeliner optional.