We Had The Talk at Sushipop
Her thick, brown hair morphed from a ponytail-bun into a massive, bee-hive knot after doing somersaults on the gym mat.
"It hurts, Mom!"
The elusive ponytail holder had become lost in her haystack of hair and would need to be cut out to set her tortured locks free.
I dug in my purse for the Swiss Army knife I hoped was at the bottom, amidst the Goldfish crumbs and wadded up balls of Kleenex.
An avalanche of purse-contents tumbled out, among them, assorted feminine products.
"Mom,
what
is this?" she asked, holding up a Tampax.
This is it. She's almost nine, and I want her to hear it from me.
I always imagined us having this conversation sitting on her bed, my arm around her shoulders. The kind of tête-à-tête my mother never had with me.
But not in the parking lot of Sushipop.
As for what to say, I'm winging it. I don't have anything prepared and no road map to guide me.
The extent of what my mother told me:
"Someday you will sit down to go to the bathroom, and blood will come out, and then you'll be a woman."
There was no Q&A session, and she provided no context about what
being a woman
meant. So it wasn't until summer camp, when I learned from my peers the life-long, pain-filled, baby-making implications of this development.
When my Big Day finally arrived, I was thirteen and had just returned from ice skating at the mall with a friend. My mother was wrong. It didn't happen when I sat down to go to the bathroom, in a neat and orderly way.
It flooded my pants and sent me running to the bathroom at my friend's house.
Luckily, my friend already had her period, and her mom was really nice. They encircled me like a band of womanhood, á la
Red Tent
, attending to me and sending me home with all the supplies I'd need until I could get to a drug store.
The thought of approaching my brick-wall-of-a-mother coiled my insides.
That night, as she sat in her recliner waiting for the weather on the evening news, I perched on the edge of the couch, gathering the nerve to spill the beans.
"Mom? I need to tell you something important."
"Hold on, I want to see the 5-day outlook."
I throbbed, like a zit about to pop, from the unpleasantness of the encounter and the cramps I was learning to tolerate.
"MOMIGOTMYPERIOD."
I retreated to my room without waiting for a response. I threw myself on my bed, slapped on my headphones, and touched the needle down on David Bowie's
Let's Dance
33 rpm.
The frustration and isolation I felt that night are fresh in my mind when I think about my Big Day, oh, so long ago.
I don't know if I'll be able to do a better job talking to my own daughter, but I can only hope that I will.
She and I communicate infinitely better than my mother and I ever did.
I think I can do it.
I will start with the very basics and pave the way for future discussions.
I know I can do it.
And then I will reward myself with sushi.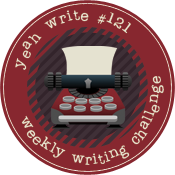 Please come read and write with us at Yeah Write. C'mon, you know you're dying to share that story about that one time at band camp.