Take a Deep Breath and Let Go
The morning sun was already cooking the asphalt, and our shirts quickly dampened with the weight of humidity and anxiety.
She fell in line behind the other girls, excited to start her adventure, her neon-green hair bow a beacon in a sea of light and dark heads.
We parted with a smile and a hug and kiss, her eyes pleading, "I can do this, right?"
"I love you, you're awesome, and you're gonna have a great time!" I struggled to hold my voice steady as I put on my dark sunglasses, lest my eyes betray my sound exterior.
I peered above the crowd on my tip-toes, keeping my eye on that neon bow until I saw it disappear into the depths of the bus.
The other parents were reminiscing about their camp days as a kid, and the fun of two solid weeks with no parents, no little brothers or sisters, and endless activities for entertainment.
Doubts crept into my head, and I beat them back with the images of the smiling kids in the brochure.
I turned to walk the flank of the bus, searching for a glimpse of her, to wave goodbye one last time. I spotted the neon bow in a window seat, head bent forward, sobbing into her tie-dyed pillow.
My whole body contracted, curling up with Mama-Bear pain, at the sight of my baby's tears.
Every mother knows this feeling. When she hurts, I hurt.
I kept a reassuring smile plastered on my face, tears concealed behind my dark glasses, and watched with the other parents as the bus sputtered to life and grumbled out of the parking lot, headed for the interstate.
I hugged myself tight, cradling my pain in my arms like a baby. Containing it, willing it not to explode inside of me like a tsunami.
Once back in the privacy of the car, the tears flowed freely, and my mind churned, wondering how I'll ever rest until I see her face, happy, again.
My best laid plans of relaxing and celebrating the freedom of having one less mouth to feed for the next two weeks were foiled.
Upon returning home, my body kicked into mind-numbing, busy-mode, and I set to work cleaning out toys and closets, fighting against that crying-face image of my girl stuck in my mind.
Five hours and six giant trash bags later, I felt a sliver of relief, enough to allow me to stop for a break.
Looking for solace in the interwebs, I pulled up the camp website, and much to my wondering eyes did appear, a happy-faced, smiling picture of my girl.
Relief flooded my lungs, and my shoulders unclenched a fraction of an inch.
A smile unraveled my lips, mirroring the joy I recognized in her face.
My back began to uncurl, and I stood a little taller.
She made it. She's happy. All is well.
My story is not unique.
I'm just like every mother since the beginning of time.
Except that I am hers, and she is mine.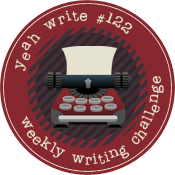 Yeah Write. It's where I do my thing. Come do yours, too.